After the death of Michael Bryan, the Hollywood world has been watching his mom Marie Osmond; wondering and admiring her strength, her courage to continue on with her daily life and job. I can't imagine the pain that she has been going through, but I can't help but marvel at her ability to trust in the Gospel and the Lord's ability to take care of His children.
This was an article written by People Magazine. I am so glad that Marie and her family have been able to find love and gratitude in the middle of their loss. I still struggle to find that same gratitude, even after all this time. It strangely gives me motivation and hope that I can find my own definition of peace and closure.
Oh and the Hymn they sang, is one of my favorites... even when taken out of context of a funeral.
Marie Osmond Joins in Solemn Final Hymn for Her Son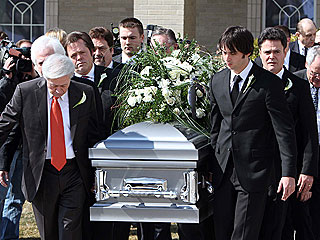 Marie Osmond had not planned to speak at her son Michael Bryan's funeral.
But as the service drew near an end Monday afternoon, she stood and addressed hundreds of mourners at the Church of Jesus Christ of Latter-day Saints Chapel in Provo, Utah, who included her show business brothers, seven surviving children, and one unexpected invited guest: the biological mother of Michael, who was adopted.
"I'd just like to say thank you to everybody," she said. "As you see I have amazing support from great men, my family, my brothers. God was very wise when he put me into a family with honorable men because they have served as examples for my children."
And so, Osmond, 50, said she wanted to use this occasion of horrible grief to "honor my children."
"I'm so proud of each and every one of you," she said. "I'm proud of my son and I honor his birthmother who's here today, who gave me the greatest gift. Thank you for those beautiful 18 years."
Marie then joined all of her brothers in singing the closing hymn, "God Be with You Till We Meet Again."